CP-D90DW-P Mitsubishi Electric thermosublimation photo-pritner
Features
Rewind function
New Rewind function optimizes the 10x15cm /4x6") prints. When the last half part of the ribbon patch is not used in the last order it can be capable for next printing order of 10x15 (4x6"). Fine mode doesn't allow Rewind function.
Power saving feature
Mitsubishi Photo printers are designed to reduce power consumption in sleep mode by up to 96% vs precedent printer generations. Standby power refers to the electric power consumed by electronic appliances while they are switched off or in a standby mode. Saves energy in sleep mode, reducing power consumption less than 1 watt.
High capacity printing
With up to 750 prints (10x15cm) capacity in a very reduced size, it's a very complete solution perfect for high capacity demand and less media exchange operations, resulting cost saving model and perfect for kiosk & photo booth use.
Exceptional printing quality
No compromise on print details in bright or dark prints. Designed with Mitsubishi's proprietary print-head control engine & image processing algorithms enable printing of high quality photos, delivering a Superior color depth and Extreme detailed output.
Compact design
With a very reduced footprint 0,105m2, and a weight of 14kgs, the CP-M1E fits almost anywhere. Also its inedit exchange media system makes very easy to operate.
Dust resistant design
The CP-M1E comes with a new Dust-resistant design, that minimizes operational and printing issues caused even when installed in dusty environment. That's perfect for photobooth. Air flow paths of power circuitry and the thermal head in the print engine are discrete and separate and designed with positive pressure air-flow that forces out dusts and small particle while providing efficient cooling to the print engine.
User-Friendly Media Replacement
The new media exchange method is user-friendly design to make media reloads quick and easy. It allows immediate loading when taken out of the box. Media replacement is so simple as 3 easy steps accessible from the front of the printer.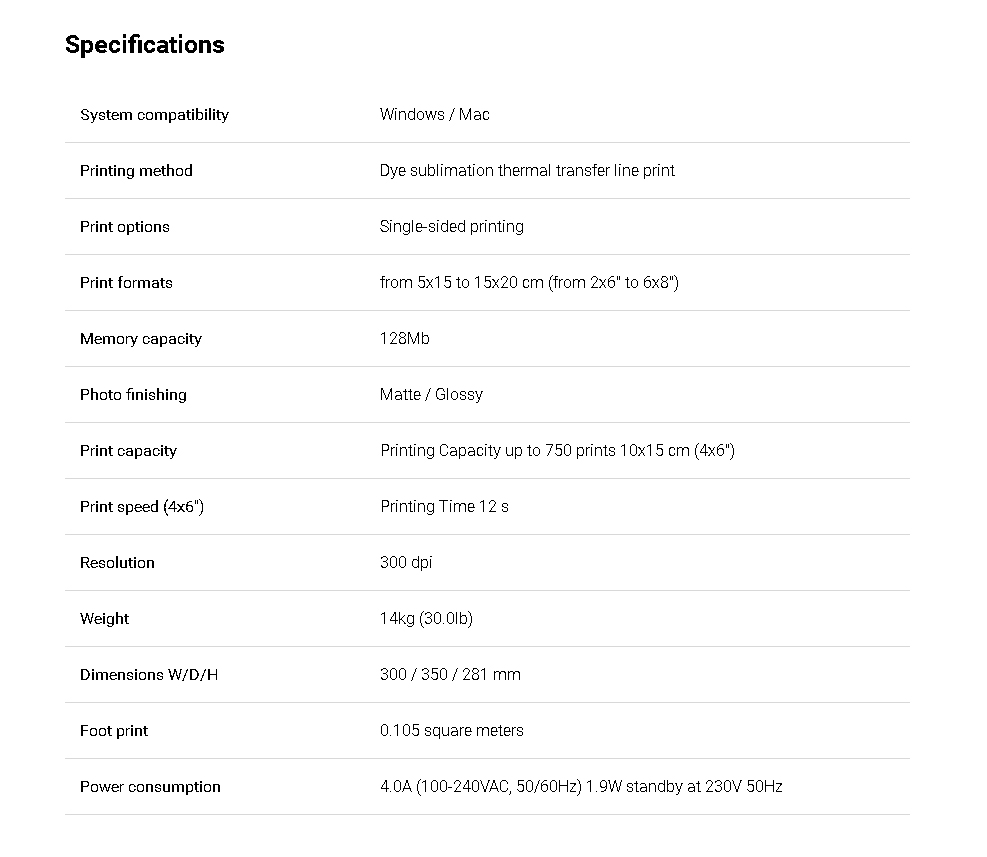 Drivers and Downloads:
https://mitsubishielectric-printing.com/en/downloads/drivers-tools
These are our terms & conditions.